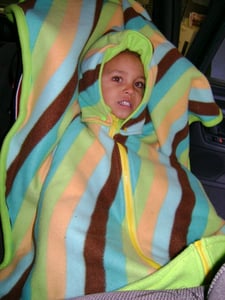 $

45.00
Did you know that its not safe to wear a coat in a carseat?
The fabric will compress in a crash, leaving the harness dangerously loose. This puts your child at risk for serious injury!
This is a safe alternative!
The carseat poncho is worn OVER the carseat harness and doesn't interfere with proper tightening. Keep your little one safe and warm!
As an added bonus, the Car-Safe CarSeat Poncho will last more than one season - sizing is flexible so it lasts longer!
Features:
- double layer of warm fuzzy fleece
- zipper for easy removal if the car warms up!
- removable hood
- quick on-and-off
- custom length
- a SAFE way to keep warm!